"If trade unions are formed in foreign companies activating in Azerbaijan, neither our flag would be insulted, nor our compatriots working there". This was stated by the chief of Azerbaijan Trade Union Confederation (ATUC) Sattar Mehbaliyev.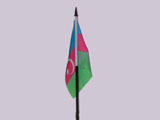 S.Mehbaliyev stated that, English expert French Allan working in "Gulf Basker-1" ship of "Deerwater marian aliance" company of Great Britain who insulted Azerbaijan state flag has already been deported from Azerbaijan.
S.Mehbaliyev stated that they will try to restore the cook who informed that incident to the society back to his employment by means of court way.
ATUC chairman stated that the difference is not only in salary: "They even eat the food cooked in different saucepans, cases of poisoning take place among local employees very often". He stated that, ATUC will oppress foreign companies to obey the rules of Azerbaijan, to defend social-economical interests of employees.
/APA/