Brazilian Carlos Alberto is determined to stay on as Azerbaijan coach despite his team's humiliating 8-0 defeat in a World Cup qualifier at the weekend.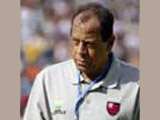 Azeri media reported on Monday that Carlos Alberto would resign after the 8-0 drubbing by Poland in European Group Six on Saturday, but the Brazilian said: "I wouldn't be here (in Baku) if I had resigned."
"I think one should not leave the team now but pool all the efforts and work together," he said as Azerbaijan prepare to meet group leaders England away in Newcastle on Wednesday.
"I want to coach the team in the second game against Poland (at home) in June," added the 60-year-old, captain of Brazil's 1970 World Cup-winning team.
"Of course, we expected a better result and a better game from our team in Poland."
"We will make changes against England," added Carlos Alberto whose team, bottom of the group with two points from five matches, lost 1-0 when the sides met in Baku in October.
Reuters