Five Uzbek nationals were arrested outside the United States Embassy in Baku by law-enforcement officers of the Ministry of Internal Affairs, reported AT on referring to the Embassy public affairs section.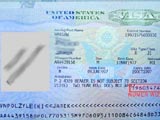 The arrests were part of a cooperative effort between the Ministry of Internal Affairs Anti-Organized Crime Division and the U.S. Embassy.
The suspects were charged with bribery in an attempt to obtain illegally a visa to the United States and for presenting fraudulent documents. The organizers may face alien smuggling charges.