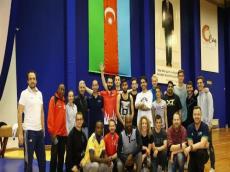 By  Trend
In accordance with the decision adopted at the FIG Congress in Baku on December 2-3, parkour has been officially included in the gymnastics program, Trend reports citing Azerbaijan Gymnastics Federation (AGF).
Taking advantage of this opportunity, presentation courses were organized in Baku in order to become familiar with this sport. The courses were attended by representatives of 12 countries, including Azerbaijan.
The seminar was presented by Charles Perriere, one the creators of this sport, who acted in "Yamakasi" movie. Having shared his joy for the inclusion of parkour in the FIG program, Perriere spoke about the future development of this sport.
"The inclusion of parkour in FIG will have a positive impact on its development. We want to show the whole world how interesting sport is parkour. Of course, we have a lot of work to do. The most important thing is to increase the number of competitions in this sport. Parkour is already one part of a big sport, and Baku has turned into a real surprise city for us," he said.
The courses consisted of theoretical and experimental parts and continued two days.
The first world championship in parkour is planned to be held from May to June 2020.      
---
---
---
---
---
---
---
---