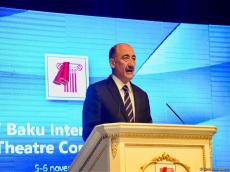 By  Trend
The Azerbaijani state has always paid and is paying great attention to the theater art, Culture Minister Abulfas Garayev said speaking Nov. 5 at the 5th Baku International Theater Conference, titled "The Philosophy of Theater in the 21st Century: the Concept of Existence."
The minister noted that the Azerbaijani national professional theater, the history of which dates back 147 years, adequately represents the country abroad today.
"The history of the Azerbaijani theater cannot be viewed separately from the 135-year history of the Yerevan State Theater," Garayev said.
Twenty percent of Azerbaijani lands were occupied - cultural monuments of Azerbaijan there were destroyed, in particular the theater buildings suffered damages, he said.
"Thanks to the attention and care of the Azerbaijani state, the Irevan, Fuzuli and Shusha theaters have not stopped their creative activity, and today they continue to function in other places. This activity proves that art is immortal."
He added that the Azerbaijani theater is developing both in Baku and in the regions. "In the near future, the 90th anniversary of the Theater of Young Spectators will be celebrated."
"Today, along with 26 state-run theaters, such theaters as UNS, municipal theaters operate in Azerbaijan. We are attaching and will attach special importance to the activity of all theaters," the minister said.
The 5th Baku International Theater Conference, titled "The Philosophy of Theater in the 21st Century: the Concept of Existence", organized by the Ministry of Culture, the Union of Theater Workers and the National Academy of Sciences, takes place on Nov. 5-6 in Baku.
The conference is attended by 110 theatrical figures from more than 40 countries.
The Baku International Theater Conference is held for the fifth time. Famous culture figures from the USA, Canada, Mexico, Germany, France, Italy, Austria, Serbia, Greece, Slovakia, Slovenia, Bulgaria, Turkey and other countries participate in it.
Discussions, master classes and various theatrical performances will be held at the two-day event.
The conflict between the two South Caucasus countries began in 1988 when Armenia made territorial claims against Azerbaijan. As a result of the ensuing war, in 1992 Armenian armed forces occupied 20 percent of Azerbaijan, including the Nagorno-Karabakh region and seven surrounding districts.
The 1994 ceasefire agreement was followed by peace negotiations. Armenia has not yet implemented four UN Security Council resolutions on withdrawal of its armed forces from the Nagorno-Karabakh and the surrounding districts.