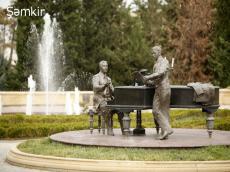 By Azernews
By Laman Ismayilova
With its spectacular landmarks Shamkir, an ancient city in the north-west of Azerbaijan, mesmerizes everyone who has a chance to see it.
The city has been known since the 5th century as a merchant and craft center of Persia.
Travelers' special interest is also evident in the so called "German pages" of Shamkir's history.
Back in 1819, immigrants from Wurttemberg, escaping revolt from the Napoleonic wars, came to Azerbaijan and established two colonies, which they called Yelenendorf and Annendorf (now Goygol and Shamkir cities).
Shamkir today is not only a city with a great history, but also a great place to relax and unwind from the daily grind
The favorable climate, pristine nature, rich cultural and historical heritage open a whole range of opportunities to its visitors.
Shamkir City Park
Not far from Flag Square and Heydar Aliyev Center in Shamkir (412 km to the north of Baku) is a city park with a total area of 22 hectares, opened in 2013. Here you one can enjoy nature, recharge their spirits, and pass on wonderful travel memories to future generations. 
There are seven modern fountains, water channels are laid about 800 meters long, over which 10 tunnel bridges have been built.
It also created an artificial lake, planted about 20,000 ornamental trees and flowers of various types.
A huge entertainment center with a lot of outdoor attractions and a hall for games in park is a perfect place for parents with children.
Shamkir Entertainment Center
This large amusement park offers 12 kinds of breathtaking swings and attractions, including the "Roller Coaster" attraction.
Whatever the season it can provide a full entertainment package. 
Kids can ride a child's train or drive cars on the racetrack. Adults can enjoy the "360" attraction, the arrow of which rotates on the vertical axis by 360 degrees, which gives passengers a sense of weightlessness.
Everyone will be interested to ride on the Ferris wheel, from which a beautiful view of the Shamkir City Park opens.
Also, all interested persons can use the service of bicycle rental, in the park there are special paths for bicyclists.
Moreover, visitors can access more than 150 slot machines and attractions in the huge covered pavilion of the Shamkir Entertainment Center.
There is a large ice rink, various "shooters", racing simulators, etc. Separate mention deserves an interactive "7D" attraction, thanks to which, the player can shoot in zombies, visit some distant planet on the spaceship and much more. Stereoscopic image, high-quality sound and moving chairs make it possible to get unforgettable impressions.
You can relax and enjoy ice cream, sweets and drinks in cafes located in the pavilion. The complex is open daily from 10:00 to 01:00 in the summer season, and until 23:00 in the winter season.
Istiglal Park 
A very cozy park Istiglal (Independence) is famous for its sculptural compositions and the Annenfeld cafe located on its territory, operating in a house belonging to German settlers.
Opposite the entrance to the park there is a sculpture to the famous native of Shamkir Ashug Teymur. Ashug art is a genre of Azerbaijani oral folk art (from the word "eshg" - love), included in the representative list of UNESCO's Intangible Cultural Heritage. This art is very popular and loved by the people, in particular in Shamkir. On the area near the monument to Ashug Teymur, ashug performances are often held, and a final of the Azerbaijani contest of young ashugs was held in Shamkir a few years ago.
There are famous sculptural composition depicting legendary Azerbaijani composer Uzeyir Hajibayli, sitting at the piano and talented poet Ahmad Javad.
Their creative union was crowned with the creation of the National anthem of Azerbaijan, the music to which Hajibeyli composed in 1918, and the words were written by Ahmad Javad.
There are a lot of greenery in the park, cozy benches, a beautiful fountain. Nearby are the mosque, the Executive Building and the House of Culture.
Hagani Park
This ancient park was laid by the Germans in 1850. In 2007 the park underwent a reconstruction.
Here on the territory of 2 hectares, visitors relax among the greenery, flowers and ornamental bushes. There are benches, water channels with bridges and a large artificial lake in which ducks swim.
Birdhouses hang everywhere on the trees. In addition to local plant species, rare representatives of the flora from Asia and America are planted.
There is a spacious children's playground with swings, mini-menagerie with luxurious black swans and peacocks, tea-house and restaurant of Azerbaijani cuisine.
Historic Monuments Park
Another interesting park in Shamkir, located at the intersection of Israfil Mammadov and Vagif streets, is not accidentally called "Park of Historical Monuments. Here, one can really get acquainted with the most famous sights of Azerbaijan, thanks to their scrupulously recreated reduced copies.
The plan of the park, which opened in 2013, repeats the contours of the map of Azerbaijan, and the role of the Caspian Sea is played by an intricate pool with fountains.
The attractions here are located in accordance with the regions to which they relate. So Absheron peninsula is represented by mock-ups of the Maiden Tower and the Ateshgah complex, Sheki - by an ancient Albanian temple in the village of Kish, Ganja - by Juma mosque (Shah Abbas mosque), etc.
In general, visiting the park will be interesting journey for anyone who is interested in the history of Azerbaijan.
The park has a very pleasant atmosphere.
Park in the village of Chinarly
The village of Chinarli is located 15 km south of the city of Shamkir. It is known that it was founded by German colonists who came from Swabia, in 1888 and earlier it was called Georgsfeld.
As a legacy of Swabians, a magnificent old park was created at an area of 5 hectares.
A special charm is given to the park by dense vegetation. It's enhanced by the species composition of the flora: along with huge cypresses and pines, fan-shaped palm, a rare Indian walnut and bamboo grow here.
On its territory there was a dance floor, the Culture House for leisure activities of villagers, a wine production enterprise and the Lutheran Church.
The Memorial was also erected in the park in memory of the victims of the tragic events in Azerbaijan on January 20, 1990.
Photo by: Azertag