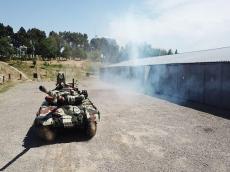 Trend:
The large-scale exercises of the Azerbaijani armed forces, being conducted with various types of troops, are underway, the Azerbaijani Defense Ministry said in a message.
According to the message, according to the plan of the exercises, tank units ensuring fire support during operations, after reaching the corresponding points, carry out tasks for preparing for the next stage of the exercises.
The large-scale exercises with the involvement of various military branches, special troops and formations of the Azerbaijani army started on July 2.
The exercises will involve up to 20,000 military personnel, up to 120 tanks and other armored vehicles, more than 200 rocket and artillery mounts of different caliber, multiple launch rocket systems and mortars, up to 30 units of army and front-line aviation.
During the exercises that will last until July 6, the troops will fulfill the tasks on performing various military operations based on the modern experience of conducting combat operations, including delivering reliable rocket, artillery, bomb-assault strikes by high-accuracy systems, and aircraft's and UAVs strikes on an imaginary enemy.
The troops will also fulfill tasks on conducting large-scale offensive operations aimed at the liberation of the occupied territories in the course of the exercises.
--