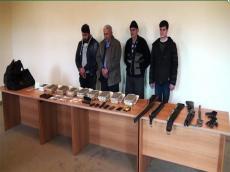 Trend:
Two citizens of Iran were detained as they violated the state border of Azerbaijan.
Azerbaijan's State Border Service (SBS) said on April 24 that searches were carried out at a border post near the Sym village in the Astara district, roads to nearby settlements were blocked and taken under control.
In the course of searches, two citizens of Iran, Nasir Mahdavi (1961) and Ruzbeh Allahyar (1991), who violated the state border of Azerbaijan, were detained.
A Winchester rifle and a double-barreled shotgun were found among personal items of the violators and were confiscated.
During the investigation, it was found out that the citizens of Iran, violating the state border of Azerbaijan, had to transfer a large batch of drugs to Ayatullah Vahabov (1950), a resident of the Khamusham village of Astara.
Vahabov was detained. More than 14 kilograms of drugs (13,334 grams of heroin, 720 grams of opium) hidden by him in the yard of his house were found and seized.
At the same time, it was established that Vahabov also involved his son Mikayil (1995) into criminal activity on drug trafficking, who was arrested as well.
Regarding these facts, the Investigative Department of the SBS initiated a criminal case under a corresponding article of Criminal Code.