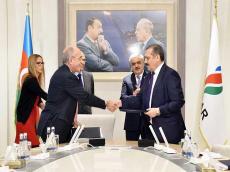 By Azernews
By Aygul Salmanova
Next year, Azerbaijan and Indonesia will expand their ties in educational sphere, said Indonesian Ambassador to Azerbaijan Husnan Bey Fananie at a reception organized for the Embassy's friends.
"In 2017, relations between Azerbaijan and Indonesia, especially in the economic and cultural spheres, have improved significantly compared to 2015-2016."
He added that statistical figures on imports and exports were also the main indicators of this development, adding that while this figure was $19 million in 2015-2016, this year it reached $46 million.
Emphasizing the role of Azerbaijani youth in the development of relations between Azerbaijan and Indonesia, Ambassador said that in 2018, Indonesia will try to expand relations in education mainly in Azerbaijan.
"Next year, the Azerbaijani Language Center will be launched in Jakarta. Additionally, we plan to hold Indonesian Culture Days in Azerbaijan in September-October of the next year. At the same time we will try to make reciprocal visits, mutual cooperation between businessmen and scholarship programs."
Indonesia recognized Azerbaijan's independence on December 28, 1991. Bilateral relations between the two republics were established on September 24, 1992. The embassy of Azerbaijan in Indonesia was established in 2006, while the embassy of Indonesia in Azerbaijan was opened in 2010.
The trade between Azerbaijan and Indonesia is mostly related to the energy sector, as Azerbaijan emerged as the second biggest supplier of crude oil to Indonesia after Saudi Arabia. Indonesia has been importing crude oil directly from Azerbaijan since 2015.