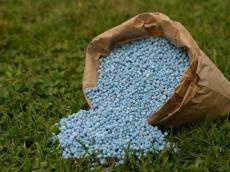 By Azernews
By Aygul Salmanova
Azerbaijani scientists managed to get fertilizers from waste for agricultural purposes.
A group of scientists of the Institute of Geology and Geophysics of the National Academy of Sciences of Azerbaijan (ANAS) conducted research on new technological methods for obtaining fertilizers through the rational use of industrial waste and mining and achieved a positive result.
As a result of the addition of natural mineral compounds from waste generated during mining operations to the ones obtained from oil industry wastes, fertilizer compounds suitable for use in agriculture were obtained, told the public relations department of the institute to Trend.
The head of the research - senior researcher of the department of geo-ecology, PhD in  technical sciences Mirali Alosmanov noted that nitrogen, phosphorus and potassium are required for obtaining this fertilizer, and all these elements are obtained from these wastes.
The result was tested at the Institute of Soil Science and Agrochemistry of ANAS, and now it is planned to test it in the High Technologies Park of ANAS.
These works stem from the development concept "Azerbaijan 2020: Looking to the Future", Alosmanov added. The strategic document provides for improving the supply of fertilizers, seeds and seedlings to agricultural producers, training and scientific support in the agrarian sector.
With the rapid pace of development taking place in virtually all sectors of Azerbaijan, the government has formulated the concept Azerbaijan 2020: Look into the Future.
The main objective of the program back in 2012 is to guide the country on an achievable course of economic and political prosperity. This all-encompassing look at the country spares no detail and includes plans for the growth of social welfare programs, effective state management, export potential, and everything in between.
Agricultural sector in Azerbaijan is considered to be central in an effort to diversify the national economy. The government supports the development of agriculture, ensures purchase of all necessary brand-new equipment, implements various agricultural projects aimed at increasing volume of domestic production and expanding range of the goods exported to foreign market.
The goals of the program related to the agricultural sector include the development of the agrarian sector, the strengthening of food security, expansion and development of trade and types of services and the improvement of the foreign trade and investment structure.
The production of eco-friendly agricultural and food products in the country is planned to be stimulated. Also, purposeful measures to protect genetic reserves and biodiversity and to improve the production of saplings and seedlings, and breeding work are to be taken.