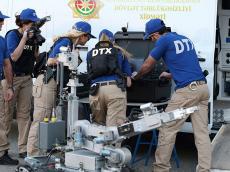 By Trend:
Three people, suspected of smuggling more than $74,000 out of Azerbaijan, have been detained, the Azerbaijani State Security Service said in a message Oct. 25.
According to the message, the money was obtained through illegal exchange of currency.
As a result of the operations carried out by the State Security Service, residents of Azerbaijan's Masalli District, Azer Babayev, Mehman Gafarli and Nofel Mammadov were detained.
During the search operations carried out in the houses of the detainees, 7,500 US dollars, 6,500 Russian rubles and 4,361 Azerbaijani manats were confiscated.
Currently, search operations are underway.