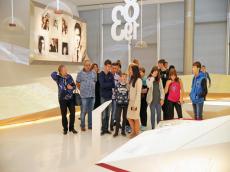 By  Trend
The visit of children of Russia's "Our Home" Family Education Support Center to Azerbaijan on October 16 at the invitation of the Heydar Aliyev Foundation has completed, a source in the foundation told Trend on October 24.
During their stay in Baku, the children got acquainted with the sights of Azerbaijan's capital, took part in various entertainment programs and also visited the country's Guba district.
During acquaintance with the Heydar Aliyev Center, the guests were informed in detail about the Heydar Aliyev Museum, the life of Azerbaijan's national leader Heydar Aliyev, the history and art of Azerbaijan.
The center's exhibitions "Pearls of Azerbaijan: in the stream of history", "Doll in art", "Modernism and fashion" left a great impression on the guests.
A visit Icheri Sheher was also organized for the guests. They visited the Palace of the Shirvanshahs and got acquainted with the history of the Maiden Tower.
Together with the children of the orphanage No.1 in the Nizami district of Baku, the guests participated in dancing, music, drawing lessons, etc.
Children of "Our Home" Family Education Support Center have also visited the IDEA Animal Care Center (IACC). The children got acquainted with the working conditions of the center.
At the end of their trip to Azerbaijan, the children made excursions to Guba district and Gobustan State Historical and Artistic Reserve. They also visited the Guba Genocide Memorial Complex, got acquainted with the tourist attractions of the district and were informed about the history of rock carvings in Gobustan Rock Art Cultural Landscape (Gobustan National Park).
The children of the Russian orphanage said that their first trip to Azerbaijan was very memorable, and noted that they would like to visit again.