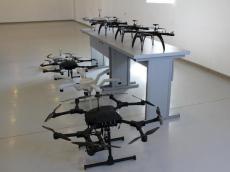 By Azernews
By Rashid Shirinov
Structural units of the Azerbaijan National Academy of Sciences will use unmanned aerial vehicles (drones) for scientific research, the High-Tech Park of the ANAS reported on October 9.
The message noted that five types of drones are currently produced at the Park, and that employees of the ANAS structures pass training on multicopter management.
Drones can be used for photo and video shooting of terrain, for carrying out the spectral analysis of terrain in agriculture, for irrigation of territories, mapping the terrain in 3D format, delivery of useful cargoes (research equipment), as well as for animal observation, etc.
Management training will be conducted for the staff of the Geography, Earth Science, Agrochemistry, Oil and Gas, Zoology, Geology and Geophysics institutes and the Institute of Botany.
The High-Tech Park plans to upgrade the drones in future and to produce multifunctional drones.
The Park of the ANAS was established in 2016. Currently, various kinds of electronic devices for military and civilian use are produced at the Park, and software products and other equipment are developed there.