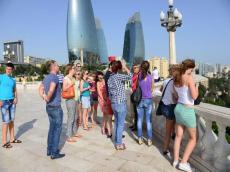 By Azernews
'Is Azerbaijan European or Asian country' is one of the frequently asked questions about the republic. The answer is that the medium-sized country in the Caucasus should be considered both part of Europe and Asia.
There is really something to see in the Land of Fire, since centuries-old history of many cities, and the natural beauty will not leave anyone indifferent.
Azerbaijan is an abundance of ancient fortresses and palaces, a qualitative and inexpensive rest on the Caspian Sea and oil treatment in Naftalan. It is hospitable Baku and the cities of the Great Silk Road.
In recent years, the tourism sector has been developing at a noticeable pace, as evidenced by the statistics of the Tourism Ministry, as well as the fact that Azerbaijan is included in top countries with the strongest tourist flow.
To date, one of the factors hampering even more development of tourism is the lack of middle-class hotels.
Although the number of hotels in Azerbaijan is increasing year by year there is still considerable shortage in their number.
Culture and Tourism Minister Abulfas Garayev said Azerbaijan has sufficient potential to receive up to 3.5 million tourists annually. 
"We are slowly developing a three-star hotel economy. We should increase the number of such hotels," he stressed.
Today, the country can accommodate about 40,000 tourists in its 535 hotels, which include a series of luxury hotels – Excelsior, Hilton, Four Seasons, Fairmont, JW Marriott, Kempinski – as well as several budget hotels for cost-conscious travelers. Moreover, 25 hostels and 92 apartments for tourists operate in Baku.
Over the past years, tourism business in Azerbaijan has developed in the direction of luxury tourism, that's why the state paid attention to the construction of expensive hotels.
Only in January-May, some 956,000 tourists arrived in the country, while last year this figure was 768,000. The growth of tourism in Azerbaijan and increasing number of tourists has necessitated construction of more hotels in the country.
"We were a country actively developing the energy sector. This industry, accordingly, dictated to us its own standards: various businessmen, people engaged in this [energy] business came to Azerbaijan. In this connection, we have constructed all these five-star hotels," he said.
Garayev said that this requires implementation of certain work, such as development of appropriate infrastructure and more affordable tourism products.
However, the minister noted that this does not apply to domestic tourism.

"Domestic tourism is an independent direction. This year it showed very good results, according to the results of the summer season. The load of hotels was almost at the level of 95 percent, which indicates a great potential for the development of two- and three-star hotels in the regions," said the minister.