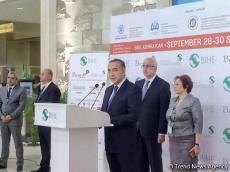 By Azernews
By Sara Israfilbayova
The 23rd Azerbaijan International Healthcare Exhibition, BIHE-2017, has kicked off at Baku Expo Center on September 28, bringing together about 104 companies from 19 countries.
The event, serving as a platform for establishing business contacts and increasing the efficiency of Azerbaijan's healthcare system, demonstrates medical and laboratory equipment, medical instruments, pharmaceutical equipment and many more.
Deputy Economy Minister Niyazi Safarov, addressing the opening ceremony, said that significant work is carried out in Azerbaijan to develop the pharmaceutical sector.
"We must admit that the sphere of pharmaceuticals in Azerbaijan was not developed, but in recent years, both the Economy Ministry and the Healthcare Ministry have done a lot of work in this area. Negotiations were held with leading companies and specialists in the world," Safarov stressed.
He further informed about the Pirallahi Industrial Park, established by the order of President Ilham Aliyev "On Establishment of Pirallahi Industrial Park" dated September 14, 2016.
Currently, three pharmaceutical plants are being constructed in the Pirallahi Industrial Park.
The first plant is a joint venture with a group of companies R-Pharm (Russian Federation), Vita-A LLC (Azerbaijan) and Azerbaijan Investment Company (AIC). The foundation of the Hayat Farm was laid in November 2016.
Hayat Pharm will produce medicines of various pharmaceutical groups, including anti-cancer, anti-fungal, anti-emetic, anti-viral and others. The plant's capacity will be 22.5 million packages or 500 million pills and capsules.
The total investment in the project is $74 million. The plant should be producing finished products by the end of 2019.
The joint pharmaceutical plant between Iranian company Tamin Pharmaceutical Investment Company (TPIC) and Azerbaijan's Azersun Holding, Caspian Pharmed became the second resident of the plant. The foundation of the plant was held in January 2017.
The Azerbaijani company Diamed Co, founded in April 2017, is the third resident of Azerbaijan's Pirallahi Industrial Park.
Deputy Health Minister Elsevar Aghayev, in turn, noted that Azerbaijan will expand the range of pilot projects on compulsory health insurance starting from 2018.
He went on to say that compulsory medical insurance will be implemented in stages.
 "Medical institutions in which compulsory medical insurance is carried out, not private, but public institutions, they must be made public legal entities. For more than a decade, free medical services have been provided in Azerbaijan's public medical facilities. Becoming public legal entities, these institutions will have their own accounts," Aghayev explained.
He stated that provision of compulsory medical insurance services is envisaged in 70 institutions, adding that in the future their number will be increased.
The pilot projects have already been realized in two regions of Azerbaijan - Mingachevir and Yevlakh.
The compulsory health insurance covered almost entire population in these areas, while occupancy of hospital beds in Mingachevir and Yevlakh rose from 45 to 80 percent and visits to the clinic increased from 1,200 to 1,400.
Further, in the framework of the exhibition, the Economy Ministry and Hayat Pharm LLC signed a memorandum of understanding (MoU) on creation and development of the pharmaceutical industry.
The document was undersigned by Niyazi Safarov and Hayat Pharm Director General Ramin Hajiyev.
The MoU envisages the need to encourage the establishment of the Association of Pharmaceutical Manufacturers, export of the medicine products, production of new types of pharmaceutical products, and investment in scientific research.
Parallel to BIHE, two more events are running in Baku: the 12th Azerbaijan International Exhibition "Stomatology" - Stomatology Azerbaijan 2017 and the 11th Azerbaijan International Exhibition "Beauty and Aesthetic Medicine"- Beauty Azerbaijan 2017.
For the first time within the framework of the exhibition, it is planned to hold a congress for doctors.
The second day of BIHE 2017 will see a workshop between exhibitors, manufacturers and distributors, the purpose of which is to help exhibition participants to establish effective business relations with local companies, and expand their distribution networks.
All three exhibitions will last until September 30.
Reforms in the sphere of medical care and healthcare system are parts of a global strategic development program of economic and social infrastructure. Over the past years, unique state policy was established in the country and quality of medical service was also improved. Today medical centers and modern pharmaceutics industry of Azerbaijan is created at a level of world standards.
During 2008-2015 the national strategy on reproductive health was being carried out in Azerbaijan.  More than 60 medical institutions have been built. Over 500 scientific research institutions and hospitals have been reconstructed and refurbished for the ten years. According to official statistics, at the moment of there are 28,489 doctors and 56,842 medium medical staff. 750 hospitals, 1670 policnics function in the country. The number of patient beds is 70 ,000.