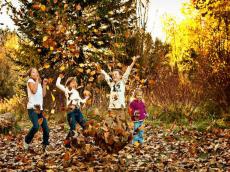 By Azernews
By Laman Ismayilova
Autumn is the "cooling off" season with early nighttime, low temperatures and heavy rains.
Autumn is generally viewed as the end of the growing season. Also known as the harvest season, autumn ushers in a time of celebration for many farming cultures when they gathered in their crops. As for wildlife, in autumn animals begin to prepare for the dearth of food that generally comes during the winter, gathering supplies or traveling to warmer climates.
The season brings a nip in the air. How much of a change is felt depends on the location of the area on Earth. Regions near the equator experience fairly constant temperatures throughout the year, while those farther north or south experience greater variations. 
Autumn in Azerbaijan is looking like a quiet fall leaf and a "golden carpet", as this season is not so severe in the Land of Fires.
No significant change in weather conditions is expected in Azerbaijan this autumn compared to previous years, said Gulshad Mammadova, the Acting Director of the Bureau of Hydrometeorological Forecasts of the Department of National Hydrometeorology of the Ministry of Ecology and Natural Resources.
She said that temperature will be close to the climatic normal in some places and below in some places this autumn. "Precipitation is predicted to be close to the climatic normal and slightly above normal on some places," she added.
Commenting on sudden cooling of weather in recent days, the expert noted that September is characterized by changeable weather conditions: "Both high and low temperature is observed in September. This year the same process has been observed and such conditions are normal".
Autumn is the best traveling time of the whole year to Azerbaijan, specifically in September and October. It is getting cooler in November, as the winter is approaching.
In Azerbaijan, autumn has amazingly unique beauty. The weather represents a mix of calm sunny days with rain meeting the sun on the same day.  The Caspian Sea is still warm and summer-like green forests, parks and gardens start changing colors only in late October.
In autumn, the country is rich with fruits like apples, quince, persimmon, loquat and pomegranates. This is besides, figs, watermelons, dogwood and pears that will give the vitamin abundance while you stay in the serenely beautiful country and enjoy the culture.
The hunting season begins mid-autumn and travelers will be able to hunt for numerous birds as well as hunt for the Dagestan goat, wild boar, hare, lapwings, foxes and other animals in Azerbaijan.
Those who want to acquire a hunting permit should apply to the Baku Ecology and Natural Resources Department and the Ecology and Natural Resources Departments.