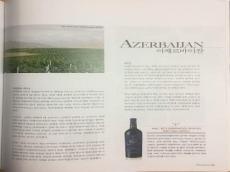 By Azernews
Azerbaijan's "Savalan" wine has been awarded a bronze medal at Korea Wine Challenge.
The Korea Wine Challenge, being Korea's first international wine competition, is hosted by the most prestigious monthly wine magazine in Korea, «Wine Review». Employing objective assessment to introduce trusted wines to the domestic wine market in Korea, KWC has been a driving force in the development of this growing market.
This year 810 wines from 23 countries were registered in total at Korea Wine Challenge. Savalan Syrah Special Edition wine by Aspi Winery won a bronze medal.
In 2016, Savalan received the award at exhibition Interwine China 2016 in Guangzhou. Also, Savalan Syrah 2013 wine won gold medal at the "Black Sea Wines" competition held on the sidelines of IV Black Sea Winemaking Forum.
In April this year, Savalan wines were presented during a trade missions to Almaty and Astana, Kazakhstan.
A total of 21 Azerbaijani wine making companies presented their products to potential buyers in China during export missions to Hong Kong and Guangzhou last year, resulting in the signing of an agreement under which Savalan wine is now being exported to China.
Nearly 10 wineries and vineyards are engaged in wine production in Azerbaijan and more and more countries such as China are showing interest in the national brandy.
Five major wine-growing regions of the country are Shamakhi, Ismayilli, Gabala, Ganja, Tovuz. Local grape varieties in Azerbaijan include White Shani, Derbendi, Nail, Bayanshire, Gamashara, Ganja Pink, Bendi, Madrasa, Black Shani, Zeynabi, Misgali, Khindogni, Agdam Kechiemdzheyi, Tebrizi, and Marandi.
Among the grape sorts used to produce Azerbaijani wine are Pinot Noir, Rkatsiteli, Pinot Blanc, Aligote, Matrassa, Podarok Magaracha, Pervenets Magaracha, Ranni Magaracha, Doina, Viorica, and Kishmish Moldavski.
The ministries of agriculture and economy are working to develop a wine culture program.
Today, Azerbaijani wines are exported to Russia, Ukraine, Baltic States, Poland, Belarus and the UAE.