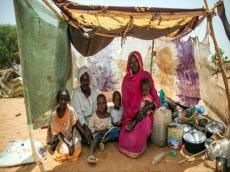 By Azernews
World hunger is on the rise for the first time in over a decade, thanks to a toxic combination of wars aggravated by climate extremes.
The figure rose by almost 5 percent year-on-year in 2016 due to an increase in violent conflicts and climate-related shocks around the world, according to an UN report released Friday.
In 2016, the number of undernourished people increased year on year for the first time since 2003, when a peak of 947 million people (14.9 per cent of the world's population) were undernourished. There were 815 million undernourished people in 2016 (11 percent), up from 777 million in 2015 (10.6 percent).
The State of Food Security and Nutrition in the World 2017 report shows that more than half of those hungry in 2016 – 489 million people – were in countries affected by conflicts. These have rapidly become more numerous, increasingly in tandem with droughts, floods and other climate-related shocks.
The FAO estimated in the report that 20 percent of Africa's population (more than 243 million) was affected by hunger during the same period.
It added that 11.7 percent of Asia's population (almost 520 million) and 6.6 percent of Latin America and the Caribbean (more than 42 million) did not have access to sufficient food.
"The food security situation has worsened in particular in parts of sub-Saharan Africa, South-Eastern Asia and Western Asia, and deteriorations have been observed most notably in situations of conflict and conflict combined with droughts or floods," read the report.
The prevalence of hunger in conflict zones was 1.4 to 4.4 percentage points higher than in other countries, the report showed. This ratio is 11 and 18 percentage points higher in conflict situations "compounded by conditions of institutional and environmental fragility". 
The report also revealed that some 155 million children under five years old found their growth stunted. Of these children, 122 million live in countries affected by conflict.
The number of overweight children and obese adults stood at 41 million and 641 million, respectively, according to the report.
"These trends are a consequence not only of conflict and climate change but also of sweeping changes in dietary habits and economic slowdowns," the report said. 
The joint report was prepared by the Food and Agriculture Organization of the United Nations (FAO), the International Fund for Agricultural Development (IFAD), the United Nations Children's Fund (UNICEF) the World Food Programme (WFP) and the World Health Organization (WHO).