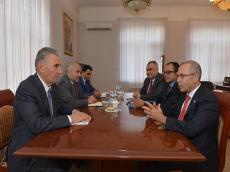 By Azernews
Goods produced in the Jojug Marjanli village, liberated from the Armenian occupation in April 2016, will be exported abroad.
This was announced at a meeting between Chairman of Azerbaijan's State Committee for Refugees and IDPs, Ali Hasanov with Ali Ihsan Genc, Chairman of Turkish and Azerbaijani Businessmen and Industrialists Public Association, and Ahmet Tecim, President of Youth Assistance Fund, the Committee reported on September 11.
Hasanov, speaking at the meeting, hailed the humanitarian assistance that Turkey rendered to Azerbaijani refugees and IDPs during the Karabakh war, and noted that the support of the brotherly country was very large.
Today, after Azerbaijani IDPs have returned to the Jojug Marjanli village, Turkish entrepreneurs are again near Azerbaijanis to realize various projects in the village, Hasanov said, hailing this initiative.
Ali Ihsan Genc, in turn, informed about the planned projects related to agriculture in the liberated village. He noted that the delegation had visited Jojug Merjanli, informed villagers about future projects, and listened to their feedback and suggestions.
Genc further added that their goal is to support re-engaging of lands, which are appropriate for sowing but remained unused for years, and to develop livestock. Moreover, any products created in the village will be exported under the name "Jojug Marjanli."
In this regard, a joint working group comprising experts has been created. The group has taken samples of land that will be used in agriculture and sent them to lab.
Ali Hasanov, in turn, expressed his gratitude for distribution of sacrificial meat on Eid al-Adha to residents of Jojug Marjanli, with joint participation of Turkish and Azerbaijani Businessmen and Industrialists Public Association and Youth Assistance Fund. He noted that the residents of Jojug Marjanli demonstrated to the world how much they are tied to their native lands.
Jojug Marjanli village of Azerbaijan's Jabrayil region was liberated by the Azerbaijani Armed Forces from the Armenian occupation in April 2016. In late January 2017, President Ilham Aliyev ordered to restore the village.
During the first phase of restoration, 50 private houses, a school, mosque, electric substation, hydrometeorological station, highway and other relevant infrastructure were constructed in Jojug Marjanli. The village was provided with gas, electricity and water supply.
The second phase of construction and restoration work and work on improvement and creation in Jojug Marjanli started on June 15 this year, and currently construction of 100 more new houses is ongoing in the village.