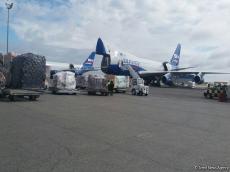 By Azernews
By Amina Nazarli
Azerbaijan will send humanitarian aid to Rohingya Muslims, suffering from the illegal actions of the Myanmar government.
The humanitarian aid will be sent upon the instructions of President Ilham Aliyev, according to the Emergency Situations Ministry.
The humanitarian aid will be delivered via Azerbaijani cargo airline Silk Way Airlines to Bangladesh, which temporary sheltered Rohingya Muslims.
Rohingya Muslims have faced discrimination in Myanmar for generations. They are not classified as a distinct group under citizenship laws and have limited rights.
Previously, Azerbaijan`s Foreign Ministry condemned the mass violence against the Muslim population in Myanmar.

"We do support the efforts of the international community, especially the Organization of Islamic Cooperation to stop this violence," the ministry spokesman said.
Rakhine, which lies in western Myanmar, has seen simmering tension between its Buddhist and Muslim populations since communal violence broke out in 2012.
Violence once again broke out in the Rakhine state in late August after security forces launched an operation against Rohingya Muslims, forcing at least 120,000 people, including women and children to flee and seek refuge in neighboring Bangladesh.
The Myanmar government, led by Nobel Peace Prize winner Aung San Suu Kyi, is accused of using disproportionate force and destroying homes of Rohingya. The U.N. documented mass gang-rape, killings -- including infants and young children -- brutal beatings and disappearances.
Rohingya representatives have said approximately 400 people have been slain in the crackdown. As of September 5, some 123,600 Rohingya have crossed into Bangladesh, according to the UN.