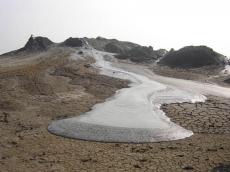 By Azernews
By Laman Ismayilova
Bozdag Hokmali, one of the numerous volcanoes located in Absheron, has caused numerous deformations and cracks in houses built on the sediments of the volcano.
Mud volcanoes are extremely common on Earth, while over 400 of about 1,000 mud volcanoes of the world are located in Azerbaijan, with the majority in Absheron and Gobustan. They can range from a few metres across to the size of a small mountain. 
The head of the expedition of the National Geological Exploration Service, Aziz Garalov, told Trend that many villas have been built in the north side of Bozdag Hokmali, ie, towards the Khirdalan-Mushfig direction.
Garalov, speaking about the danger of living near the mud volcano, said that Bozdag Hokmali last erupted roughly 10 years ago.
"But, the mud volcano can erupt in the future. The slope was cut off to build houses in many areas, including close to the center of the volcano, despite warnings. As a result, many buildings have been damaged by cracks. The width of some cracks reached 50 cm," said Garalov.
Mud volcanoes behave a little like their molten-rock counterparts, going through long periods of inactivity with periodic violent eruptions. Mud volcanoes, however, spew out not molten hot lava from the Earth's mantle, but usually a cold mixture of gas, water and solids.
Every 20 years or so, volcano ignites and its flame height can reach hundreds of meters.
For instance, Keyraki mud volcano erupted in Baku on June 12. The Ecology and Natural Resources Ministry reported that the eruption lasted for 15 minutes and the mud waste covered an area of 3.5 hectares.
Lokbatan mud volcano erupted on the shore of the Caspian Sea oil field in May. A depth of the volcano reached 4 kilometers, while the eruption lasted for only 4 minutes.
Otman Bozdag volcano, on of the biggest in the world, erupted in the suburb of Baku in February 2017. As a result of the volcanic eruption, the flame rose to the height of 350 meters. Mud waste covered an area of about 10-12 hectare.