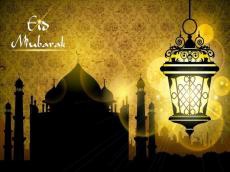 By Azernews
By Laman Ismayilova
Muslims around the world come together to celebrate Eid al-Adha, also called the "Sacrifice Feast".
Eid al-Adha is the Muslim festival that marks the end of the pilgrimage to Makkah known as Hajj. Eid al-Adha, which symbolizes the highest human qualities, commemorates Abraham's faith and devotion to God.
Prophet Abraham, was ordered by God to sacrifice his son Ishmael as a test of faith. After Abraham ac­ceded to the divine order, he dis­covered that God had spared his be­loved son and replaced his sacrifice with a ram, rewarding him for his faith and devotion.
Every year Muslims across the world sacrifice an animal to commemo­rate Abraham's devotion and God's mercy.
The meat from the sacrificed animal [usually sheep or goat] is divided into three parts; one-third for the family; one-third for rela­tives, friends and neighbors; and the remaining third to the poor.
While many Muslims continue this tradi­tion, purchasing and sacrificing the animal themselves before person­ally distributing the meat, others prefer to simply buy the meat for themselves and family and pay a charity the equivalent of the third to the poor.
Eid al-Adha is also the culmina­tion of the Hajj pilgrimage, one of the five pillars of Islam. Pilgrims usually cel­ebrate the Eid in Mecca or Medina after returning from Mina, where the animal sacrifice is offered.
Eid al-Adha is a great holiday across the Muslim world and usually sees Muslims attend mosque for the early prayers, with men and women wearing their best clothes and children often being gifted with new clothes and shoes to cel­ebrate the event.
After the morning prayers they have a feast with their family and friends, and they enjoy being together and sharing.
Muslim families and friends visit each other over the multi-day holiday, while children get money or gifts from parents and older rela­tives.
The holiday varies year by year, and its date is determined by the Islamic lunar Hijri calendar. In the Islamic lunar calendar, Eid al-Adha takes place on the 10th day of the 12th month and lasts for four days until the 13th day.
This year it will start on Friday, September 1 and will end in the evening of Tuesday.
Azerbaijan is celebrating the holiday on September 1-2, which will be non-working days. As the weekends coincide with non-working days, September 4 Monday, will also be a non-working day in the country, according to the legislation.