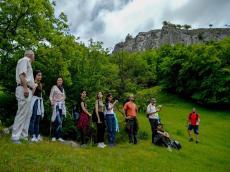 By Azernews
By Amina Nazarli
One of the great things about travelling Shamakhi, Azerbaijan is that you can be sure to enjoy the outdoors almost every day of the year.
Hike through the green hills in the spring, admire the valley ablaze in the warm colors of autumn, or enjoy skiing and other sports in the winter, this picture-perfect region is an amazing holiday destination all year round.  
Shamakhi's tourism industry is now awakening fast, and turning the region into a new hot-spot for travelers. Over 20 recreation centers and three five-star hotels with 1022 beds are available in the region.
The region attracted 84,892 tourists since early 2017, while 24,605 of them are foreigners. The figure show a 10-percent growth compared to the statics of 2016.
Shamakhi, the ancient capital of Azerbaijan located 122 km from Baku, boasts not only rich flora and fauna, but also historical and cultural monuments.
The history of Shamakhi, which is replete with shady forests and green meadows, dates back to the 5th century BC.
For centuries, Shamakhi was one of Azerbaijan's most prominent cities, an important cultural and trading centre and the royal seat of the Shirvanshahs (9th to 18th centuries). Furthermore, it is known as the root of Azerbaijani literature.
Despite the numerous earthquakes in the region, Shamakhi still preserved many historical monuments. The "must see" attractions in Shamakhi are Juma mosque with its two minarets built in the 10th century, the mausoleum of Shahihandan and Diri-Baba, the tomb of the Shirvan Khans, the ruins of the Gulistan citadel and the Gala-Bugurt fortress.
One of the most renowned places in the city is the Juma Mosque also called the Friday Mosque of Shamakhi that dates back to 734-744. Considered the landmark of Shamakhi, it is the only building that withstood giant earthquakes.
Today, the city is well known for wine-making and carpet weaving. To meet craftsmen, weaving famous carpets such as "Shirvan", "Gobustan", "Shamakhi", "Israfil" and "Ardzhiman" tourists can visit village of Jangi.
The largest astrophysical observatory in Azerbaijan and the whole Caucasus is also located in Pirkuli, Shamakhi. The observatory named after famous Azerbaijani architect, astronomer, mathematician and philosopher Nasreddin Tusi is equipped with modern facilities and one of the largest in the CIS telescope with a mirror diameter of 2 meters.