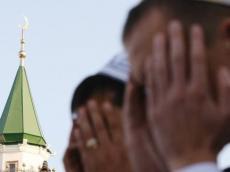 By Azernews
By Amina Nazarli
Considered the most sacred Muslim occasion, Ramadan is the ninth month of the Islamic calendar. Held since ancient times, this holy event has pious Muslims fasting, practicing extreme self-restraint, praying, doing charitable activities and all such actions that are recommended by Islam.
The Muslim holy month of Ramadan was conceived the second year of Hegira, whereby Muhammad emigrated from Mecca to Medina.
Ramadan teaches the faithful to love Allah, to test their will and patience, and to be wiser and more honest.
The Koran was bestowed upon us as a guide for mankind during the final 10 days of this month.
Muslims refer to this night as the Laylat Al-Qadr, meaning the great, powerful night. The Koran says, "The night of Al-Qadr is better than a thousand months. Therein descend the angels and the Ruh (Gabriel) by Allah's Permission with all Decrees. Peace! till the rise of Morning (97:1-5)."
The history of fasting in Ramadan starts when the Prophet Muhammad determined the holy month in Medina during the second year of pilgrimage.
Fasting is one of the Five Pillars of the Islamic religion and one of its main practices. The resulting hunger is seen as a means of developing sympathy for the less fortunate, while learning to be humble and appreciate all of God's bounties.
Muslims worldwide fast in the daylight hours during Ramadan. For 30 days, they do not eat, drink, smoke, or engage in sexual intercourse during fasting hours, testing their patience and ability to overcome temptations.
Fasting gives Muslims an opportunity to practice self-control and cleanse the body and mind. Many cultures and religions use fasting for this purpose. During Ramadan, fasting helps Muslims with their spiritual devotion as well as in developing a feeling of kinship with other Muslims.
The holy Koran says, "As morning comes and white thread distinguishes from black thread, you may eat and drink and then complete your fast till the night."
Fasting is so important to Muslims for a number of reasons. First, when you are not paying attention to your mortal needs such as food, you may be able to become more in tune with God and your spiritual side. Also, the fast serves to remind Muslims of the suffering of the poor. This idea reinforces the importance of charity during Ramadan.
Fasting is completed with holiday of 'Eid al-Fitr.' On this day, it is required that all wealthy Muslims aid the less fortunate.
'Zakat al-Fitr' is the term for charity given to the poor at the end of the fasting. Depending on the financial wealth of the family, Zakat should include three kilograms of wheat, barley, raisins, dates or rice for each family member.