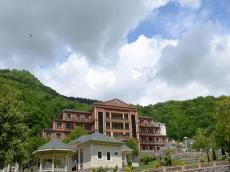 By Azernews
By Laman Ismayilova
Gabala, with its beautiful waterfalls, streams and emerald green forests, has turned into one of the most-visited tourist attractions in the world.
The abundance of attractions, natural paradise and well developed infrastructure attract thousands of tourists.
There is a great variety of historical and cultural monuments of different eras in this region such as the Albanian church of IV-VIII centuries in Amili village, tombs of Sheikh Badraddin and Sheikh Mansur of XV century in Hazra village, mosque of XIX century in Bum village and others.
Visit Nij village inhabited by Udi, direct descendants of the ancient Caucasian Albanians.  The ruins of the ancient town are situated in 15 km south-west of the modern site of Gabala, in the village of Chukhur Gabala on the territory between Garachay and Jourluchay rivers. Here you can find the ancient walls and towers.
Luxury hotels, recreation and entertainment centers impress everyone, who visits this picturesque and historic place located at the foothills of the Caucasus Mountains. 
Today Gabala is known not only for its natural beauty, but also modern tourism, culture and sport infrastructure. 
The Gabala International Airport was inaugurated by President Ilham Aliyev on 17 November 2011.
Gabala Canning Factory is the largest fruit processing factory in the South Caucasus It has taken on a leadership role in Azerbaijani market with its own tasty products that meet international standards.
The complex has been established in close cooperation with the famous German "Delovan", "Gruber", "Vestvalya", "Dea" companies. Milking room is equipped with the world's most advanced equipment of "Karusel" type, cooling systems, and other auxiliary equipment. New technology enables separate registration of volume of milk in each cow, degree of fatness and other quality indicators.
Gabala bread and confectionery production facility covers 1203,5 m2 area and daily productive capacity is 20 tons. The different variety of bread, round bread, brick bread, black bread, saj bread and yukha are baked here. Production facility was provided with bakery line of tunnel type, mixers, dough cutter, pulling equipments and other supporting machineries. 42 persons work in the facility on three-shift basis.
Confectionery products such as shorgoghal, shekerbura, pakhlava, badambura, cake, loaves are baked in the facility as well.
Beltman piano factory founded in 1901 by Johann Beltman in the Kingdom of the Netherlands was moved by his great-grandson Hans Lefernik to Germany in 1983, and the company functioned there till 2002 year.
In 2008, an idea of creating a new Beltman factory arose, and in October of the same year construction of the factory started in Gabala. By making three pianos in September of 2009, production of Beltman brand pianos was founded.
Gabala is also home for various international cultural and sport events. The town hosts an annual International Music Festival of classical music, jazz and mugham, which is attended by bands and artists from all around the world.