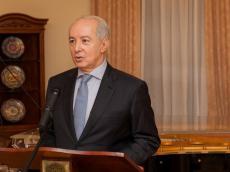 The Azerbaijan Embassy in the Netherlands organized a reception on the occasion of the World Azerbaijanis Day of Solidarity and New Year in the Hague.
Addressing the event, Ambassador Mir-Hamza Afandiyev spoke of the important issues of embassy according to the instructions of the Azerbaijani President Ilham Aliyev at the meetings with the heads of diplomatic missions of the country. He told about a new stage of relationship between Azerbaijan and the Netherlands as a result of various political, economic events organized with the support of the Embassy, in recent years.
The Ambassador also informed about the visits of high-level delegations of Azerbaijan to the Netherlands and prospects of bilateral relations between the two countries.
Azerbaijani ambassador said that, last year over 80 reports on Azerbaijan were published in the Dutch media.
Ambassador also informed the participants about the Armenia-Azerbaijan, Nagorno-Karabakh conflict, the Armenian lobby's propaganda, as well as the activities of the Embassy and diaspora organizations to prevent the slanderous campaign against Azerbaijan by certain circles in Europe.
At the same time, stressing increasing Dutch public's interest to Azerbaijan, Mir-Hamza Afandiyev highlighted that the independent policy founded by national leader Heydar Aliyev and based on national interests, is successfully continued by President Ilham Aliyev.
The reception continued by the concert of national music performed by Ilham Babayev, an Azerbaijani kamancha master living in the Netherlands. The event was attended by representatives of diaspora organizations in the country, government representatives and members of the diplomatic corps, journalists.