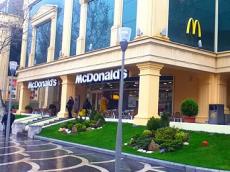 By AzerNews
McDonalds is one of the widespread fast food restaurants in the world, providing over 247 billion people with inexpensive food.
The most evident advantage of fast food is that it saves time. In today's fast-paced life, it is a convenient way to get a meal.
Beside the time an individual has to spend in the kitchen, cooking a meal requires one to make a trip to the supermarket to buy the ingredients for the dish. Then there is the added effort and time which need to be put into washing and peeling the vegetables. All this makes eating fast food more convenient over cooking a meal for a busy individual.
In Western countries, some people prefer to eat in fast food restaurants likewise teenagers. This is especially true about young people for whom a fast food center is a good place to hangout with friends.
Citing a few points about the advantages of the fast food does not mean that we should deny its drawbacks.
Like any other restaurants, cafes, fast food centers have their own problems.
A lot of incidents happen to consumers around the world due to the lack of hygienic requirements.
For example, a consumer in Baku was sold a beef roll that contained mold on the bread. Anar Osmanov, a worker in McDonalds, said that the staff checked all goods and no mold was found, adding that McDonalds checks all goods from abroad as well as locally produced.
In March, another resident of the capital, Roland Mammadov, found a snail in a Caesar salad. On this occasion, he sued to get 50,000 manats as compensation.
Recently, four McDonalds' restaurants were closed in Moscow, accused of violating sanitary regulations.
Subsequently, such kinds of incidents may affect the purchasing power among population in many countries, including Azerbaijan.
That being said, people underestimate just how bad a fast food meal can be for their health.
As a reminder, some McDonald's produces food which contains higher amounts of unwanted nutrients like salt, fat and various types of artificial chemicals. Frying destroys most of the essential nutrients from the food.
A number of studies have linked regular consumption of fast food to health problems such as obesity and liver problems.
Of course, outlet eating is economical, but only for a single person. Going out to a fast food, eating with family once in a while won't matter much. However, frequent visits to such restaurants can become quite an expensive affair, besides being unhealthy.
Fast food joints are also being seen as a factor that is making a number of families spend less and less time together. Family meal time is something that is considered as an opportunity for all the members to come together.
Today, people forget what it means to spend time at home and enjoying breakfast or dinner together.
Surely, we can talk about the advantages and disadvantages of fast food for hours, but it's a waste of time. Nevertheless, many of us try these kinds of food and most of us even like it.