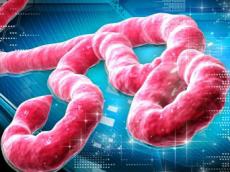 Azerbaijan's Ministry of Health, health facilities, hygiene and epidemiology centers of cities and regions were given special assignments to prevent penetration of Ebola virus into the country's territory.
In this regard, the chief sanitary doctor of Azerbaijan Abbas Velibekov signed an order to strengthen preventive and anti-epidemic measures in order to prevent the possibility of penetration of the virus into the country, says a statement posted Aug. 15 on the website of the Ministry of Health of Azerbaijan.
The heads of these medical institutions, according to the order, were commissioned to create the conditions for immediate isolation of persons suspected in being infected with Ebola, to ensure the provision of basic symptomatic treatment drugs, significant reserves of disinfectants.
In addition, the order finds it necessary to strengthen the control of anti-epidemic measures and disinfection in medical institutions, to observe strict disinfection regime and to create the conditions for immediate hospitalization of the person suspected of infection. It is also vital to liaise with the border-crossing points in order to create conditions of medical surveillance of persons coming from countries where the virus is spread and increase the educational work among the population, as well as to carry out other preventive measures.
Ebola outbreak began in February in West Africa. Its victims are mostly residents of four West African countries - Liberia, Guinea, Nigeria and Sierra Leone.
There is no a special treatment or a vaccine for Ebola.
The World Health Organization (WHO) promised the vaccine in 2015.
The death toll as a result of infection with Ebola in Western Africa is 1069 people, and the number of people infected is 1975. Serum from Ebola is being developed in the United States, few people have had an experimental treatment.

/Trend/