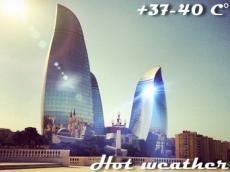 Mostly rainless weather with variable cloudy sky is expected in Baku and Absheron peninsula on August 15. Southern wind to waft. The temperature will be +24-27C at night, while and +33-37C in the noon. Sea water temperature in Absheron beaches will be +25-28C.
Eastern wind, no precipitation is forecasted in Azerbaijani regions. The temperature will be +21-26C at night and +35-40 in the noon, while +12-17C in mountains at night and +24-29C in the noon.
Meteosensitive people could feel uncomfortable as the high temperature to reign in Abhseron peninsula on August 15-17.

/Eco.Gov.Az/