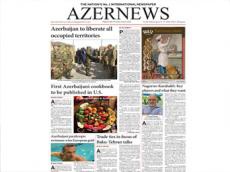 A new print edition of the AZERNEWS online newspaper was released on August 5.
The new edition includes articles about expert views on TAPI pipeline project, Azerbaijan Deposit Insurance Fund of individuals' (ADIF) consideration about revision of insurance coverage on deposits, the publication of first book on Azerbaijani cuisine in the United States, expert views on the upcoming meeting of Azerbaijani and Armenian Presidents in Sochi and etc.
AZERNEWS is an associate member of the World Association of Newspapers and News Publishers (WAN-IFRA).
The online newspaper is available at
www.azernews.az.