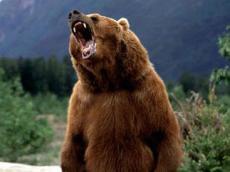 By AzerNews
A bear has attacked an Azerbaijani village causing fear among the residents.
A private farm, belonging to farmer Aziz Alekberov, was attacked by the bear. The event took place in Jack village located at 52 km of the Guba-Khinalig road, on the night of August 2 to 3. The bear ate 4-5 kg honey.
Aziz Alekberov said that the bear destroyed beehives, located there.
Farm worker Zafar Azizov said that he heard a rustling at night, however, fearful of the bear he did not go into the yard.
Damages caused by the bear were counted next day. Bear invaded the courtyard economy, destroying several beehives and ate about 4-5 kg of honey amounting 500 manats.
Similar attacks were reported in the regions recently.
A bear attacked and wounded a person in Azerbaijan's Shamakhi region in April. Earlier, another bear wounded two people in Keshmedin village of Shamakhi.
Due to lack of food, hunger bears usually attack people in search of food.
August and September are among the months in which bears begin to search for foods, accumulate them for upcoming days. During these months, the bears actively feed, consuming food up to 20-35 thousand calories and gaining weight to 1.5 kg per day.