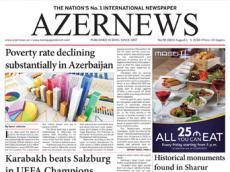 A new print edition of the AZERNEWS online newspaper was released on August 1.
The new edition includes articles about significant reduction of the poverty level in Azerbaijan, country's Oil Fund's intention to buy Chinese Yuan, joint tournament in artistic, acrobatic gymnastics in Baku, the peculiarities of the wedding ceremony in Azerbaijan, as well as about the land of longevity-Lerik region and etc.
AZERNEWS is an associate member of the World Association of Newspapers and News Publishers (WAN-IFRA).
The online newspaper is available at
www.azernews.az.