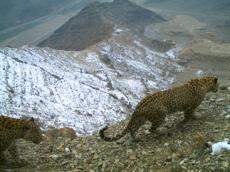 An ecological summer camp under slogan "Lets' keep leopards" within framework of the project "Protection of Caucasus leopards" (Panthera pardus) has been held in Masalli District. The summer camp is organized by joint organization of Azerbaijan Representation of World Nature Protection Fund (WWF), IDEA Public Union, Heydar Aliyev Center and the Ministry of Education.
Key goal of organization of the 3-day camp where 30 pupils that consist of VII-IX pupils of the secondary schools of mountain villages of Masalli, Jalilabad and Yardimli regions participate is to inform the pupils living near the locations where Caucasus leopards live about this rare species and agitate their protection.
It should be noted that, the project on protection of Caucasus leopard was started by WWF since 2002. There is effective result of the actions performed by Leyla Aliyeva, founder of IDEA Public Union, vice-president of Heydar Aliyev Foundation within framework of program "Great Five" which surrounds protection of 5 fauna species (bear, wolf, gazelle, eagle and leopard) who faced with perish danger in the Caucasus.
Sevinc Sarukhanova, the collaborator of Azerbaijan Representation of World Nature Protection Fund (WWF) informed about the projects the organization realizes.
Nazakat Isayeva, collaborator of IDEA (International Dialogue For Environmental Protection) Public Union spoke of the activities IDEA impellents to protect fauna and flora.
Addressing the event the IDEA head stressed that it is difficult to hope for environmental protection without youth' support.
It was noted that similar summer camps are the continuation of the Caucasus Biodiversity Summit dedicated to the species that belong to felids family held by organizational support of Heydar Aliyev Foundation and Heydar Aliyev Center, initiative of IDEA Public Union on May 7, 2014 in Heydar Aliyev Center.

/AzerTAc/