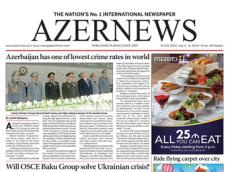 A new print edition of the AZERNEWS online newspaper was released on July 4.
The new edition includes articles about Armenian government's new idea to make happy its people on the background of upcoming waves of price hikes, pros and cons of traveling by taxi in Baku, Azerbaijan's new Flying Carpet mobile game, new Baku city tours that give chance to travel city in one day, as well as benefits of vegetables in summer months and etc.
AZERNEWS is an associate member of the World Association of Newspapers and News Publishers (WAN-IFRA).
The online newspaper is available at
www.azernews.az.