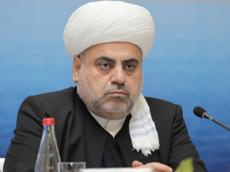 Chairman of the Caucasian Muslims Board Allahshukur Pashazadeh has addressed the world community.
The Caucasian Muslims Board (CMB) told
APA
that Allahshukur Pashazadeh said he is addressing the whole mankind, regardless of their religion, language, race and nationality.
The message proceeds:
"We are all created by Allah, the only creator. In this world, it's impossible to find someone who rejects the notions of brotherhood and friendship and supports human bloodshed, murder, and aggression. We're concerned over the ongoing horrific crimes and killings in the land of Iraq. These events in Iraq are a manifestation that is considerably dangerous. We think that this is a provocation which is aimed against the whole humanity, not only Muslims. Because Islam says killing one innocent man is equal to killing all humanity. Their principle goal is to cause chaos and discord in the family of humanity, bring about a clash among humans, and ignite the tendency to intolerance. Regardless of the denomination they belong to, every open-minded Muslim perfectly understands that such provocations are directed against Islam and its sacred values and that the committers of these crimes cannot be Muslims. Fratricide committed under the sounds 'Allahu Akbar' has nothing to do with Islam.
The Caucasian Muslims Board calls on Muslims all over the world to be heedful and vigilant and protect our unity from all outside influences and not to fall victim to the enemies of Islam.