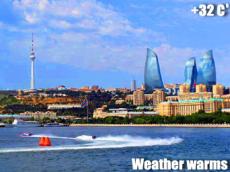 Weather will be volatile cloudy and intermittently gloomy in Baku and Absheron peninsula on July 1. Northern wind to blow and intensify off and on. The temperature will be +19-22C at night, while and +27-32C in the noon. Sea water temperature in Absheron beaches will be +21-24C.
Some Azerbaijani regions will face rainfall and lightning, while rain will gradually cease in the noon. Eastern wind to waft and intensify. The temperature will be +19-24C at night and +30-35 and in the noon, while +10-15C in mountains at night and +19-24C in the noon.
Most of the meteosensitive people to feel comfortable. due to normal daily course of the meteorological determinants during the next 2 days.

/Eco.Gov.Az/