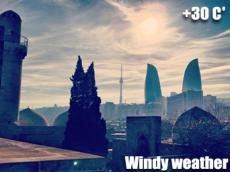 Strong north-western wind will dominate on in Baku and Absheron peninsula on June 24. Changeable cloudy and infrequently gloomy weather is expected. The temperature will be +19-23C at night, while and +25-30 and up to +37C in several areas in the noon. Sea water temperature in Absheron beaches will be +21-24C.
Rainfall and lightning are predicted in several mountainous and foothills regions. Western wind to waft and intensify. The temperature will be +19-24C at night and +31-36 and in the noon, while +10-15C in mountains at night and +20-25C in the noon.
Strong north-western wind in Abheron peninsula until the June 25 noon can cause meteosensitive people to feel uncomfortable.

/Eco.Gov.Az/