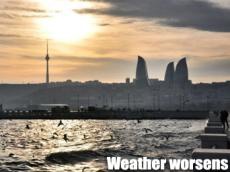 The weather will sharply change in Azerbaijan. The National Hydrometeorology Department of the Ministry of Ecology and Natural Resources has issued a warning,
APA
reports.
The warning says that the west, north-west wind will intensify from the night of June 21-22 and it is expected to be stronger during the day on June 22 and mainly till the evening on June 23 in the Kur valley regions and Absheron peninsula.
Lightning is expected in the evening and at night, local heavy rains, hails are forecasted mainly in mountainous and sub-mountainous areas.
The temperature will drop 3-5 C compared to previous days.