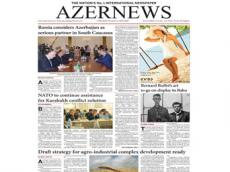 A new print edition of the AZERNEWS online newspaper was released on June 20.
The new edition includes articles about the results of the visit of Russian Foreign Minister Sergey Lavrov to Baku, insurance companies' contribution to the development of non-oil sector in Azerbaijan, the impact of events in Iraq on world oil balance, festival of national minorities in Baku, exhibition of recognized French artist Bernard Buffet in Azerbaijani capital as well as about the beautiful Baku parks and etc.
AZERNEWS is an associate member of the World Association of Newspapers and News Publishers (WAN-IFRA).
The online newspaper is available at
www.azernews.az.