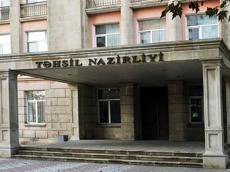 The Ministry of Education commented on the closing of educational institutions functioning under the Azerbaijan International Educational Complex (AIEC).
It was said that the Ministry of Education has today received the founders' decision on the abolishment of educational institutions functioning under AIEC,
APA
reports.
"The ministry respects the founders' decision passed within the law. Making a decision is the authority of the public association, which governs private schools.
The Education Ministry has already created a working group for admitting pupils and teaching staff of lyceums functioning under AIEC in the country's educational network and started preparations to ensure a normal course of the process.
The ministry informs students and teaching staff of educational institutions belonging to AIEC that all necessary conditions will be created for continuing education in educational institutions on the basis of their free choice and placing teaching staff of AIEC before the start of the new academic year. Public schools are able to admit a sufficient of number of students.
The Azerbaijani education has a rich tradition, strong logistical and pedagogical potential. Many educational intuitions of our country have achieved high results in international competitions".