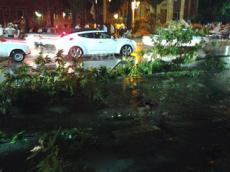 Hurricane and downpour led to serious consequences in Ganja, on June 10 at night hours,
APA
's western bureau reports.
Hurricane accompanied shower, gusty winds knocked several trees in the central streets of the city, damaged roofs of several houses, interrupted power supply of the city.
At Heydar Aliyev Avenue fallen trees have caused a variety of injuries 4 people of town. The injured were immediately hospitalized in city hospital ambulance. On the other site of the street a fallen tree damaged two cars. These effected movement of cars. Ongoing downpour flooded several homes.
According to the report, as a result of natural disaster in the most part of the city power supply was interrupted. Currently, the relevant structures of the city take measures to eliminate the consequences of the disaster.
Head of Ganja city Executive Power, Elmar Veliyev spoke to the media in connection with the disaster. He described the events as a great disaster: "This is a big disaster. I would say even that, except for earthquakes in the history of Ganja similar natural catastrophe has not happened. But despite this, I can say that everything is under control. All structures centrally perform their tasks."
Elmar Veliev also noted that the disaster caused severe damage to the city economy: "In the gas sector by 27 registered sites destructed, 80% of the city was energized, problems in the sewer system  are eliminating. Hundreds of 300-500 year old trees sycamore destroyed. City suffered from severe damage. "
Head of Ganja city Executive Power called on people not to be anxious and promised to eliminate all consequences.