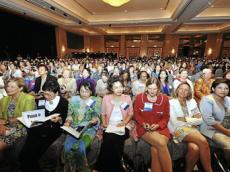 The global summit of women entitled "'Women: Redesigning Economies, Societies'" kicked off in Paris on June 5.
Chairman of State Committee for Family, Women and Children Affairs Hijran Huseynova attended the event.
The three-day event is the international forum of the business and governmental leaders aimed at women's exploration the current practical strategy and the winning strategy.
The Global Summit of Women was conceived as the nexus at which all sectors – public, private and nonprofit – would come together under the common vision of dramatically expanding women's economic opportunities globally through exchanges of working solutions and creative strategies forged by women leaders in different parts of the world. It is a business Summit, whose 'business' focus is women's advancement in the global economy.
Hijran Huseynova made a speech at the event and gave information about expanding women entrepreneurship and achievements gained in this field in Azerbaijan.
Hijran Huseynova also met the Minister for Employment of the U.K. Esther McVey, Minister for Women of the U.K. Nicky Morgan, Chair of National Commission for Women and Family of Kazakhstan Mahabbat Bekbosynova, Minister of Labor, Family, Social Affairs, and Equal Opportunities of Slovenia Anja Mrak, Secretary of State for Equal Opportunities of Poland Agnieszka Kozlowska-Rajewicz, Minister of Solidarity, Family, Women, and Development of Morocco Bassima Hakkaoui, Minister of State of United Arab Emirates Maitha Salem Al Shamsi, Vice Chair of the All-China Women's Federation Meng Xiaosi and Vice President of Vietnam Nguyen Thi Doan as part of the visit.
They also held discussion on the further cooperation.

/AzerTAc/