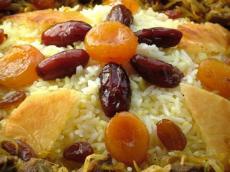 By AzerNews
Days of Azerbaijani Cuisine was held in a restaurant at UNESCO headquarters as a part of the fifth session of the UN General Assembly on June 2-6.
The cooks of the Buta Palace restaurant, including chef Ogtay Jafarov and cooks Alim Dashdamirov, Anar Gubatov, Agil Abbasov and Zaur Vazekh presented Azerbaijan's rich cuisine in this international organization.
Buta's chefs offered guests various kinds of salads, including "choban" and "mangal", as well as such pearls of Azerbaijani cuisine as dovga (a yoghurt soup cooked with a variety of herbs), dushbara (a sort of dumplings of dough filled with ground meat and condiments), dogramach (a mix of mostly raw vegetables (like cucumbers, radishes and spring onions), yarpag dolmasi (grape leaves wrapped around a meat filling), kebab, and the king of Azerbaijani cuisine - shah pilaf.
Visitors showed great interest in both the kitchen and in the country itself. Then, Azerbaijani cooks met the guests' questions and handed them CDs including information about Azerbaijani cuisine.
General Manager of the Buta Palace Mikayil Zeynalov said the Heydar Aliyev Foundation promotes national values ??in many countries and to this end, implements various projects. He added that the Days of Azerbaijani cuisine, organized by the country's permanent representative to UNESCO in collaboration with the Foundation, are the part of these projects.
UNESCO restaurant Manager Cyril Augapfel said that familiarity with our kitchen, its variety and the quality of our foods is really a miracle.
"I was told that shah pilaf is a chef-d'oeuvre of Azerbaijanis' table. Wedding can't be conducted without a pilaf - it has already become the epitome of the ancient traditions of the nation," Augapfel said.
Noting that previously he was familiar with the cuisine of the Mediterranean countries - Italy, France, Lebanon and others, however, he said Azerbaijani cuisine completely differs from them in terms of taste and size.
"Although I have not visited your country, I know about its rich strategic resources. On the other hand, concerts organized at the initiative of the First Lady of Azerbaijan, President of Heydar Aliyev Foundation and the Goodwill Ambassador of UNESCO and ISESCO Mehriban Aliyeva, made a rich impression and allowed us to learn more about your country," Cyril Ogapfel underscored.
Out of 11 climatic zones known in the world, Azerbaijan's climate has nine. This contributes to the fertility of the land, which in turn results in the richness of the country's cuisine.
Azerbaijan is famous for the abundance of its vegetables and greens used seasonally in all the dishes. Fresh herbs, including mint, coriander, dill, basil, parsley, tarragon, leek, chive, thyme, marjoram, green onion, and watercress are very popular and often accompany main dishes.
The Caspian Sea is home to many edible species of fish, including the sturgeon, Caspian salmon, sardines, grey mullet, and others. Black caviar from the Caspian Sea is one of Azerbaijan's best-known delicacies well sought after in other parts of the world, including former Soviet countries.