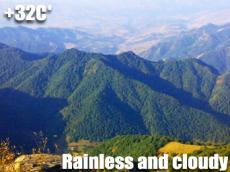 There will be no precipitation. Weather forecasters promise cloudy sky in Baku and Absheron peninsula on June 6. Mild south-eastern wind to blow. The temperature will be +18-20C at night, while and +27-32C in the noon.
As rainfall and lightning are predicted in the highland and foothills zones, weather is going to be without rainfall in most of the regions. Eastern wind to waft. The temperature will be +16-21C at night and +28-33 and in the noon, while +7-12C in mountains at night and +19-24C in the noon.
Meteosensitive people to be pleased with normal daily course of meteorological determinants in Abhseron peninsula during the next 2 days.

/Eco.Gov.Az/