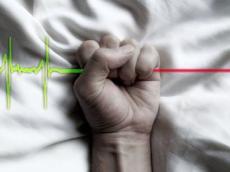 By AzerNews
"Would you prefer to die at the age of 66 of a sudden death without any pain and sufferings, or live to the very depth of your oldness and die aged 90, but with throes?" I asked my friend one day after a death of my lovely granny. "Of course, at the of aged 90 years!" he replied immediately, without waiting even a second.
Life is sweet and no one would like to leave it by their own will... But sometimes the story is different.
It is really painful to see human sufferings, but the matter is more complicated when it comes to your loved ones. You are ready to do all possible things to relieve his or her pains. But, are you ready to take a "death decision" for them? This is an act of euthanasia.
Euthanasia or mercy killing is an easy, painless death, which comes as a result of certain actions of men themselves, or certain actions of others acting solely at the request of a person who needs their help.
At the same time, when those doomed to a slow death is not able to express their will, actions of the people who take the responsibility for decision-making on behalf of the mentioned persons may also be considered euthanasia.
The term "euthanasia" was first used by the historian Suetonius who described how the Emperor Augustus, "died quickly and without suffering in the arms of his wife, Livia and experienced the 'euthanasia' he had wished for."
Medical ethics has changed a lot over the past centuries. Earlier, each doctor solely relied on the Hippocratic Oath, the basic principle of which goes something like this: Do whatever you want, but do no harm. Today, medical ethics is based on four ethical principles: autonomy - the human right to control over his life, health and death; beneficence - the duty always to act in the interests of the patient; non-malignance - the principle of "do no harm"; and justice - all patients have an equal right to receive assistance.
A survey in the United States of more than 10,000 physicians showed that approximately 16 percent of physicians would ever consider halting life-sustaining therapy because of the patients' families demands, even if they believed that it was premature.
Approximately 55 percent said they would not, and the remaining 29 percent said it would depend on circumstances.
This study also revealed that approximately 46 percent of physicians agree that physician-assisted suicide should be allowed in some cases; 41 percent don't agree and the remaining 14 percent think it depends on the circumstances.
Right to die: Belgium ignites global debate on euthanasia
Euthanasia has been legal in the Netherlands since 1984. General law on euthanasia for adults in Belgium has been enforced since 2002, and the number of those appealing for euthanasia increases every year.
Moreover, several US states also legalized euthanasia, while in all post-Soviet countries euthanasia is prohibited.
In March 2014, Belgium's king signed into law a controversial bill that will allow for chronically ill children to be euthanized, local media reported. The bill, while widely opposed by religious groups, has gained broad support among the public since then.
However, unlike the Netherlands, where intentional acceleration of death at the request of the patient is legalized since 12 years ago, Belgian draft law does not specify the minimum age. Decision cannot be taken without parental consent, as well as the recommendations of doctors, psychologist and psychiatrist.
There have been many cases where seemingly hopeless children returned to normal life. Thanks to doctors and parents, these children not only survived, but also became productive members of society.
The same applies to patients with malignant diseases and leukemia, many of which are treatable today, but require huge funds. Very often parents cannot raise money for the child's treatment. In this case, euthanasia law will help some unscrupulous parents to solve all the problems with financing.
When the issue of child euthanasia stood top on the agenda, a four-year-old Canadian Jessica Saba, who had undergone a serious operation on the heart, hoped that King Philippe of Belgium would hear her plea and block the country from enacting a law permitting child euthanasia.
"For the sake of the children," she said. "Please do not sign the euthanasia bill."
Jessica's parents also warned that legalization of euthanasia for children can encourage parents of sick children or disabled people to give up hope too soon.

For or against?
Human euthanasia is an emotionally charged subject for those who argue for and against it. Arguments supporting euthanasia refer to ending the suffering of a patient, giving them a choice to decide how and when to die are main parts of human dignity.
Opponent of euthanasia call it a murder and a kind of using palliative care which are mainly rooted in depression.
Sometimes people are not thinking about the words they use, promising to fulfill every desire of their beloved ones. However, there are a lot of various desires, and most of them cannot be fulfilled at all.
Seeing a loved one unbearably suffering is very difficult, but I think the person who really loves them will never want the death of a loved one, even if it will bring relief to the patient. We have to be hopeful and believe to future.