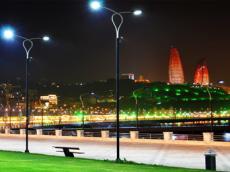 By AzerNews
A seaside boulevard and beach will be created in Baku, the district executive branch said.
New seaside boulevard and beach are planned to be created at the coastal strip of the Caspian Sea in the Pirallahi settlement, the source said.
Prior to the construction of these facilities, the coast will be cleared of various wastes. Similar work will be done at the seabed.
All the conditions for relaxation will be created at the new boulevard. However, the project is not yet ready and approved and it's not known when construction will begin.
Certain works for the construction of a new park located on the Samad Vurgun street are underway, the source said.
All the old buildings, wooden fences, and illegal fencing in the beach area are currently being demolished, and landscaping works at the site of the demolished railway stations are underway, the source added.
Located right off the northeastern shore of the Absheron Peninsula, the Pirallahi Island is 11 kilometers long and has a maximum width of 4 kilometers. Administratively, the Island belongs to the Pirallahi district of Baku.
Oil deposits on the northern part of island are estimated at 1.2 million tons.
Flights to other Caspian isles are available at the heliport on the southern tip of the island.
Earlier, it was reported that most of the construction work on a bridge over the highway that connects the Absheron peninsula to the Pirallahi settlement is done.
The bridge is built to improve transport and traffic between the island and the peninsula, prevent the destruction of the road which connects the village to the shore, and create the necessary conditions for water transport under the bridge.
Once the bridge is completed, the road under the bridge will be demolished and sea vessels will pass underneath it.