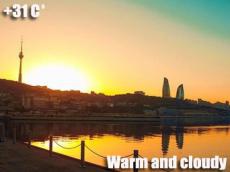 Cloudiness and gloominess during the rainless day is expected on May 27 in Baku and Absheron peninsula. Short-term rain is not excluded in several parts of the peninsula at night. North-western wind to be followed by soft south-eastern wind in the noon. The temperature will be +16-20C at night, while and +26-31C in the noon.
Weather is going to be rainless in most of Azerbaijani regions except rain and lightning in several highland zones in the evening. Western wind to waft and intensify during the lightning. The temperature will be +16-21C at night and +28-33 and in the noon, while +7-12C in mountains at night and +19-24C in the noon.
Meteosensitive people to be pleased with normal daily course of meteorological determinants in Abhseron peninsula during the next 2 days.

/Eco.Gov.Az/