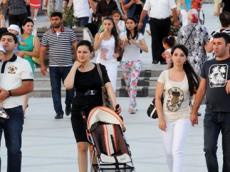 Azerbaijan's population exceeded 9.5 million people as of April 1.
The State Statistics Committee reported that the natural population growth in the country was 23,423 people. Some 38,211 babies were born in Azerbaijan in the first quarter of 2014.
During this same period, some 14,788 people died. The fatality per 1,000 people in Azerbaijan amounted to 10.1 people. Birth rate per 1,000 people was 16.5 people, human mortality rate - 6.4 people.
Some 17,367 marriages and 2,739 divorces were registered in the country during this period. The number of marriages per 1,000 people was 7.5, the number of divorces - 1.2.
The population of Baku was 2,186.5 people in the first quarter of the year. The natality in Baku was 4,480 people. Some 7,719 children were born in Baku in January-March this year. Some 3,239 people died during the same period.
Some 3,949 marriages and 947 divorces were registered in Baku during this period.

/AzerNews/