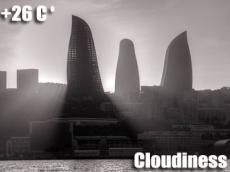 Weather on May 15 is going to be volatile nebulous, gloomy off and on and mostly rainless in Baku and Absheron peninsula. Strong north-western wind will relent towards the evening. The temperature will be +14-17C at night, while and +24-29C in the noon.
Some southern and western regions will have rainy weather accompanied with lightning while the main weather condition is expected to have no precipitation. Misty morning is not excepted.
Western wind to waft and intensify. The temperature will be +14-19C at night and +28-33 and in the noon, while +8-13C in mountains at night and +19-24C in the noon.

/Eco.Gov.Az/