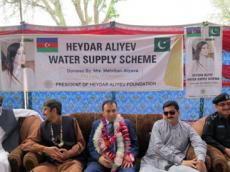 By AzerNews
The "Heydar Aliyev Water Supply" project kicked off in the Tank region of Pakistan's Dera Ismail Khan city (Tribal area) on the occasion of the 91st anniversary of National Leader Heydar Aliyev.
The project is pressing ahead with the joint support of Azerbaijan's First Lady, President of the Heydar Aliyev Foundation Mehriban Aliyeva, and the Agency for Support to International Development acting under Azerbaijan's Foreign Ministry.
Within the framework of the project, over 150 tons of water will be extracted daily from a 700-metre deep well. Consisting of a water reserve, an uninterrupted power plant and a water distribution system, the "Heydar Aliyev Water Supply" Project will provide 40,000 people living in the region with drinking water.
The opening ceremony of the project was attended by former deputy chairperson of the Pakistani parliament, member of the Azerbaijan-Pakistan Interparliamentary Friendship group Feysal Karim Kundi, representatives of the Khyber Pakhtunkhwa's provincial government, deputies of the provincial assembly, elders of the surrounding villages and media representatives.
Feysal Karim Kundi highly appreciated the efforts by the Heydar Aliyev Foundation in Pakistan's economically poor region suffering from terror, and thanked Foundation's President Mehriban Aliyeva.
He said the "Heydar Aliyev Water Supply" project was a significant support for residents of a region suffering from drinking water shortage.
Azerbaijan's Ambassador to Pakistan Dashgin Shikarov talked about the relations between the two nations.
Referring to the events on the eve of the 91st anniversary of national leader Heydar Aliyev, Shikarov talked about the life and activity of the national leader.
He mentioned the series of humanitarian programs implemented in various provinces of Pakistan, following the initiative of Mehriban Aliyeva, in the fields of public health and education.
The Heydar Aliyev Foundation started its activity in Pakistan after an earthquake in 2005 by launching an initiative to build a new modern school for girls in Muzaffarabad.
Moreover, the foundation implemented a range of projects in healthcare, education and humanitarian aid fields across most provinces of Pakistan in 2012 and 2013.